What happens when a giant Banana Peel, Bendy Straw, and Shoe meet in a park? At night, with illuminated giants… it MUST be another Curious Legends production!
Join us this December 11th for the launch of our new show – Curb. The culmination event of Hamilton's 150 Year Celebrations, Curb is a performance for children and their families. Exploring Trash, loneliness, and what to do if you've lost your Peel, our Giant Banana is getting its own cameo! Join the crew from Curious Legends for another outdoor, fun, family friendly, event!
The show starts at 8pm, with Gregson Park coming alive from 5pm. Live music with a FUNK vibe, yum food trucks, quirky roving artists, giant puppets, and our unique brand of friendly insanity. We can't WAIT to meet you there!!!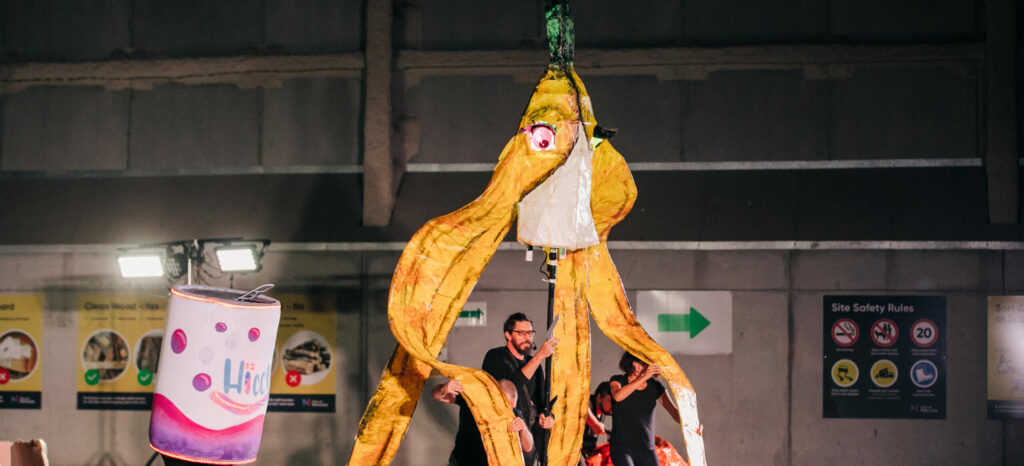 Details:
Covid: Due to public health orders, all participants over 16 must be double vaccinated to come to Curb
Cost: Free (but bookings essential)
Ticketing Link: http://tix.yt/curb
Date: Saturday, December 11th
Time: 5pm to 9pm (show starts at 8pm)
Essentials to Bring: Picnic blanket, insect repellent, and hungry bellies (there will be food trucks there!)
Location: Gregson Park, Hamilton (click, tap, or poke the image below to find where to go!)
Workshops!
Curb is all about Trash, so we've got a number of fun workshops where artists from our company (and beyond!) can show you cool things to do with it.
Curbside Critters
Date: Sunday, December 5th
Location: Curious Legends Studio, 1 Swan Street, Hamilton
Cost: FREE – registrations essential
Bookings: http://tix.yt/curbside-critters
Times: 1:30pm to 2:30pm & 3pm to 4pm
Trash Creatures
Date: Saturday, December 11th
Time: 1pm to 2:30pm & 3pm to 4:30pm
Location: Hudson Street Hum, 7 Hudson Street, Hamilton
Cost: $5
Bookings & More Info: https://www.hudsonstreethum.com.au/workshops/trash-creatures/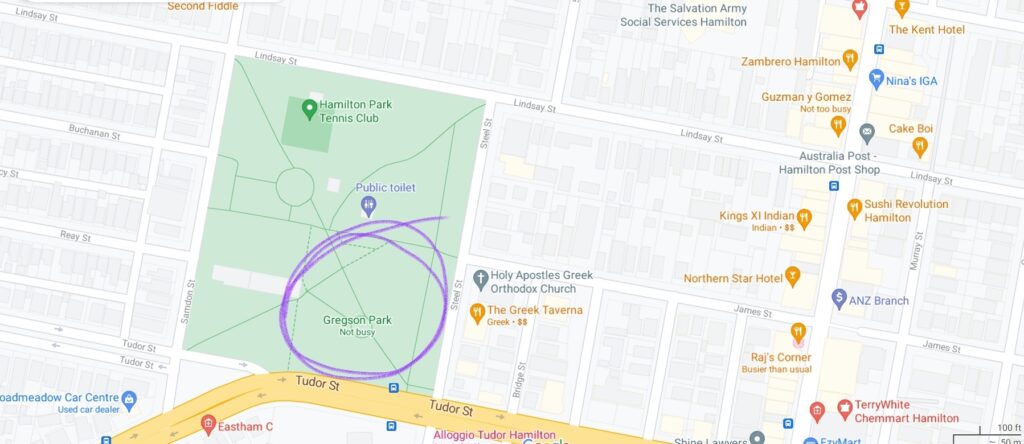 Credits:
Images by Soltookthis
Header from Luminous Creatures, 2021
Additional Banana Taylor's Run, 2021
Giant Banana made and designed by Conor Fox
Curb is supported by the Hamilton SBR Program (NCC), Port of Newcastle, Hello Hamilton,
and the Australian Government's RISE fund.